(Program cover, featuring "Gilded Coral Nest" by ceramic artist Jennifer McCurdy.)
Our recent weekend in Evanston was planned to coincide with the American Craft Expo, sponsored by the Auxiliary of Evanston & Glenbrook Hospitals to benefit ovarian cancer research. Our three kids were born at Evanston Hospital, and my maternal grandmother and several friends lost their lives to ovarian cancer, so those aspects added special meaning to this benefit for me.
I took no photos at the show (not even sure if I could have, but bringing a camera just didn't feel right) so all photos below are images from the artists' promotional materials or websites.
We arrived Saturday morning at 10 when the doors opened. You always need a browsing strategy for big shows in order not to miss anything, and ours was to start at the back and work our way forward, row by row. Seeing all 150 artists took us 4 hours, and revisits took an extra hour.
Here are some of our favorite artists from the show, with links to their websites:
Fiber artist Sandi Garris. Very inspiring use of color & form, in both her geometric & organic styles. Her pieces are made of hand-dyed cottons, machine stitched, then mounted & framed.
Fiber artist Renee Harris. Love!!! My first time seeing her work in person, after admiring it online for years. Photos just don't do justice to her pieces. Fabulous textures & mixing of paper, cloth & stitches, beautifully framed.
Glass artists Peter Muller & Joe Peters. These sea creatures are created by Joe's borosilicate torchwork, while the portal bowls framing them are furnace blown and then cut and shaped by Peter. Incredibly detailed work. A perfect collaboration.
Ceramic artist Rick Hintze. We especially liked his earthy matte/crackle glazed vessels, but I couldn't find a photo of those. Great shapes and textures.
Basket artist Jennifer Heller Zurick. She harvests Black Willow bark and completely processes it herself. She then weaves it free-form into baskets, large and small. Extremely appealing pieces, very warm and intricately patterned.
 
Fiber artist Sally Jones. Sally had beautiful hand-screened silk tops and scarves. My favorite style isn't shown on her website -- her block-pieced silk scarves featuring 5 or more colors/patterns. She had sold out of the color group I liked best, and offered to custom make one for me.
Ceramic artist Larry Richmond. His work combines pottery with fiber and wood accents.  Beautiful shapes, patterns and textures.
 Jewelry artist Deb Karash. Deb is one of my all-time favorite artists. She's developed a process in which she applies layers of Prismacolor pencil to a patinated copper shape, seals it, and then mounts the colored piece with brass rivets to a textured sterling silver backdrop. Her pieces have all the elements I love -- a fanciful take on nature, distinctive hand-coloring & shading, a mix of metals, beautiful forms and impeccable finishing.
 Fiber artist Chris Roberts-Antieau. This was the first or possibly second time I've seen Chris's work in person -- she may have exhibited at a Reston/NoVA Fine Arts Festival some years ago. Anyway, her "Night Birds" above is one of our favorites from Chris's strange and wonderful show collection. As with many fiber artists' work, photos don't do justice to the texture created by embellishment stitching on her pieces.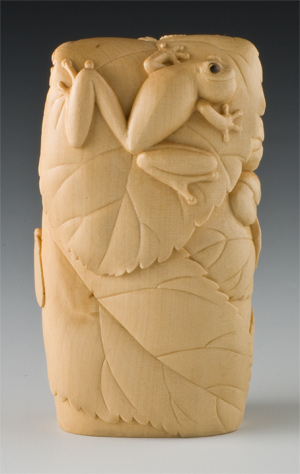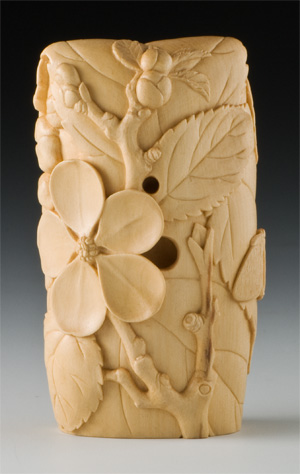 Wood artist Janel Jacobson. Her tiny netsukes and other small wood carvings are so lovely. Spring Song, the piece pictured above, measures only 2.2 x 1.3 x 0.8 inches. Incredibly tiny details!
*     *     *     *     *
ACE was truly an inspiring and memorable show. We spoke with many of the artists, who were eager to share information about their inspiration and their methods.
What struck me over and over was the importance of layers in artistic work. The ability to think in and conceptualize the layers or stages of a creative process. The use of physical layers of raw material in the construction of the work itself, whether glass or fiber or whatever. The layers of meaning that the piece holds for the artist as maker, versus the public as viewer/ enthusiast/ buyer. The layers of  past, present and future connected by evolving craft traditions and techniques.
So much food for thought.